DiCAPac WPC10 Mobile Slide Bar Phone Waterproof Case
Brand:
DiCAPac
Product Code:
WPC10
Availability:
In Stock
Price: £21.99

DiCAPac WP-C10 Mobile Slide/Bar Phone Waterproof Case
JIS IPX 8 (JIS Waterproof test highest grade)
Patent Product - ISO9001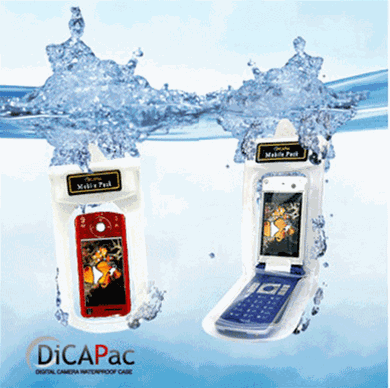 DiCAPac Waterproof case(up to 10m) for Bar and Slide type Mobilephone.
Fits to Treo, Black Berry, iphones and etc.
Touch screen available and can talk and listen.
In the wintertime, DicaPack is usable in ski resorts.
Protect your phone from water, sand, dust, etc. in the ocean and mountains
Features
Directions to use :
1.Open the mouth of the case.
2. Put your phone into the case.
3. Zip the case and press.
4. Fold along the folded lines and stick the first velcro.
5. Close with second velcro. After use remove the water then take the phone out while keeping the mouth part in a downward position.
Let's call safety on the beach by mobile pack!!
1.Waterproof to a depth of 32ft.
2.Clear photography through a super clear PVC lends.
3.Possible to phone call on the waterproof case.
4.We have two types of folder and slide.
5.High transmittance 90%
All of DICAPac's products have passed Japan's rigorous JIS IPX8 test and are all waterproof products of grade 8 (the highest grade).
JIS stands for Japan Industrial Standard, an industrial standard system.

Grade 1: protected against dripping water for 10 min at 200mm
Grade 2: protected against dripping water when tilted up to 15 degrees for 10 min at 200mm
Grade 3: protected against spraying water for 10 min at 200mm
Grade 4: protected against splashing water for 10 min at 300-600mm
Grade 5: protected against water jets for 3 min at 3m
Grade 6: protected against heavy seas for 30 min at 3m
Grade 7: protected against the effects of immersion for 30 min
Grade 8: protected against submersion
Write a review
Your Name:
Your Review:
Note: HTML is not translated!
Rating:
Bad
Good
Enter the code in the box below: