DiCAPac WP310 Digital Camera Waterproof Housing Case
Brand:
DiCAPac
Product Code:
WP310
Availability:
In Stock
Price: £19.99

DiCAPac WP-310 Digital Camera Waterproof Housing Case

JIS IPX 8 (JIS Waterproof test highest grade)
Patent Product - ISO9001

Because the DiCAPac is up to 10m waterproof, your filming limits are expanded to taking pictures of swimming or of multifarious life.
It is possible to clearly photograph water splashes and enhance your images by adding sound of the water.
In the wintertime, DiCAPac is usable in ski resorts.
Protect your camera from water, sand, dust, etc. in the ocean and mountains.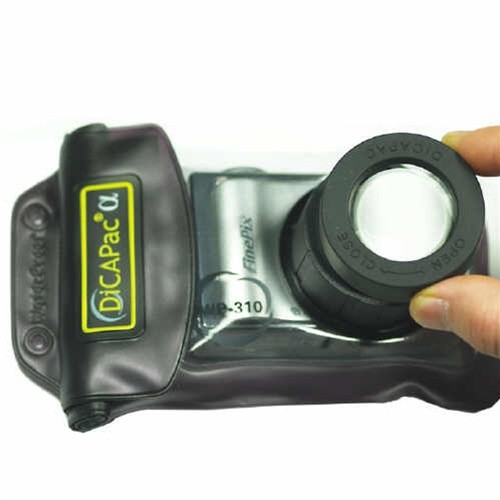 Waterproof case for digital cameras are made of non-toxic materials(RoHS) and are tested and qualified to waterproof grade JIS IPX8 (Japaness Industrial Standard's highest waterproof grade). Tested and passed upto 16ft underwater lab test and actual test. Patented Products. Roll and Velcro Zipper system which allows full funtionality of camera controls. It also has a removable optical lens with diffused reflection prevention. The big addition is a polycarbonate quality lens (clear and hard to break) opening that lets you take pictures with zoom control even when the camera is in the pouch. You will get a good quality picture with it. The lens has a 3-layer coating both inside and outside. (UV coating, Water repellent coating, Scratch resistance coating for quality pictures.) It also floats when you drop it into water.
This case fits for over 200 cameras from major brands up to sizes of 7.5" round X 4.0" width with zoom lens of 1.1" X 1.5" and comes with 0.12" thick extention ring for who has longer zoom lens than lens from waterproof case. Fitting model detailes can find from fitting guide. (List may not included the new model, you can use the size to make sure it can fit your camera)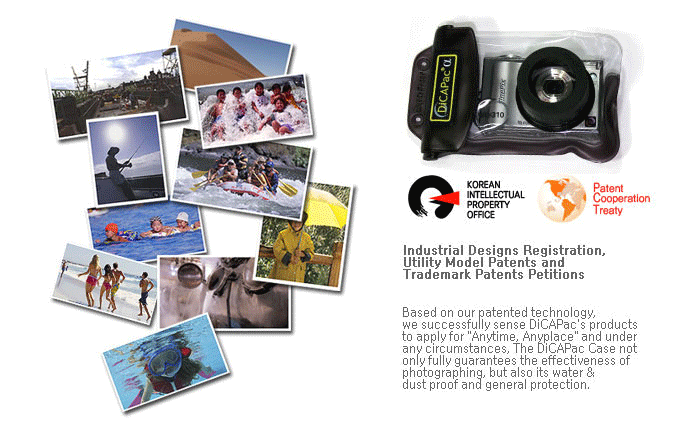 Features
Directions to use : 1.Open the mouth of the case. 2. Put your camera into the case. 3. Zip the case and press. 4. Fold along the folded lines and stick the first velcro. 5. Close with second velcro. After use remove the water then take the camera out while keeping the mouth part in a downward position.
Let's photograph underwater !

1. Waterproof in 10m deep underwater (JIS IPX8)
2. Possible to use with lens with and without zoom function.
3. Various sizes for different camera sizes.
4. Clear filming using a UV Coating Polycarbonate lens.
All of DICAPac's products have passed Japan's rigorous JIS IPX8 test and are all waterproof products of grade 8 (the highest grade).
JIS stands for Japan Industrial Standard, an industrial standard system.

Grade 1: protected against dripping water for 10 min at 200mm
Grade 2: protected against dripping water when tilted up to 15 degrees for 10 min at 200mm
Grade 3: protected against spraying water for 10 min at 200mm
Grade 4: protected against splashing water for 10 min at 300-600mm
Grade 5: protected against water jets for 3 min at 3m
Grade 6: protected against heavy seas for 30 min at 3m
Grade 7: protected against the effects of immersion for 30 min
Grade 8: protected against submersion
Waterproof Simulation Test

Local : Deepzone Diving Pool 5M Beneath Water (Korea) >> Success!
2International : Sapang Beach 18M Beneath Water (Philippines) >> Success!!
The said test was conducted by experts under a proper circumstance.
Write a review
Your Name:
Your Review:
Note: HTML is not translated!
Rating:
Bad
Good
Enter the code in the box below: